Define How Your Product Will Solve the Issues
What problems does your product solve for your target audience? How can your product address their needs and pain points? Here, the more efficiently your product solves problems, the more valuable it is. For example, if your prospects' pain points are primarily financial, you might highlight the attributes of your product in relation to a cheaper monthly subscription plan.
Research on Your Competitors
Next, you should look into the comparable solutions that companies offer your target audience and analyze their products to figure out what you can incorporate into your MVP to deliver a superior solution.
For example, Spotify and YouTube Music are current music streaming applications that compete with one another. While Spotify enables users to listen to free music with the smartphone screen off and save battery power, YouTube Music does not. This may be one of the minor details that helps them triumph over their competition.
Find a Unique Value Proposition
Your MVP should have distinct features to distinguish itself from other comparable solutions. You can select the optimal functions to create a one-of-a-kind item by prioritizing them.
Customers will have a reason to choose your product if you do this. For example, this strategy enabled Uber to complete 14 million trips each day, thanks to their 'one-tap taxi without phone calls' feature.
Lastly, Use MoSCow Matrix to Prioritize Your Features
Among all the feature prioritization techniques, MoSCow is the most simple one and can help you list the required features with no hassle.
This prioritization technique consists of 'must have, should have, could have, and won't have this time,' which can be used to section all MVP features into four categories.
The must-have group consists of mandatory components. Functionalities in the should-have category are not required but are still crucial. Nice-to-have functions belong to the could-have category. Lastly, components that are not currently a priority but may be in the future are included in the won't have this time category.
Challenges You Might Face While Building an MVP
Building an MVP as quickly as possible is the goal of every business and product development team, but certain hurdles may stand in the way.
Here are some:
Going Scope Creep
A company can easily become a victim of scope expansion. Many times, you become attached to a disruptive concept after you've thought of it. It's hard to reduce the scope down to the bare minimum because you want to present it in all its magnificence to investors and the world in general.
Not to mention the fact that the greater you consider conquering the market, the more likely you are to generate new functions. However, employing this approach may result in delivery delays, put a burden on your budget, and, ultimately, jeopardize the survival of your product MVP.
Hard to Define Minimum Value Proposition
When a business wants to launch a new product MVP, they are often so focused on keeping the initial version simple that they neglect to include important capabilities. While not as typical as scope creep, this drawback is still prevalent – typically as a result of initiatives that don't concentrate adequately on what makes their target market unique.
Although we've seen it a dozen times, it still makes our point. It is not beneficial for consumers to receive a one-wheeled vehicle; rather, a scooter is a better choice. MVP in software development operates in the same manner.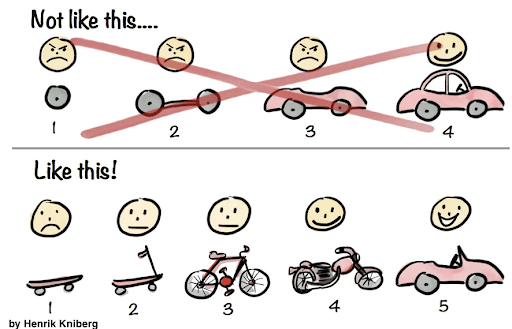 Image Source: Interaction Design Foundation
Inexperienced or Inefficient Team
Even if you believe yourself to be a one-man army, building an MVP is an unrealistic task for you as an entrepreneur on your own. Hence, it's crucial for you to work with a dependable IT partner who can offer not only a lean strategy and competence but also have experience with fast digital product launches. For starters, the team composition they recommend will match your evolving demands.
The vendor's expertise in working with companies in various industries is an important factor you should consider when selecting your technology partner.
Moreover, the installation cost and time, future scalability, and community support are all significant in the development of a Minimum Viable Product. Of course, it's tempting to want the latest and greatest, but hype-driven development can sometimes do more harm than good to your project. We've already discussed how you can prioritize your feature list; you should confirm the development time for each one from your technology partner. This will allow you to prioritize even better.
In a Nutshell
Prior to beginning the creation of your digital product's MVP, you must define the scope of your MVP. Having a thorough understanding of the product development life cycle is just as important as visualizing the project in its various phases. Here, be as specific as possible when describing the scope, and clear up any doubts as soon as they arise.
MVPs serve as airbags, allowing you to estimate a product's economic and technological potential as well as implement it. You can make commercial and technological decisions based on evidence rather than speculation, thanks to MVPs.
If you're looking for a development partner to help you with the MVP development process, Innovify is among the best choices.
We can guide you through the MVP development process and help you with problem definition, market research, prototyping, and feedback collection.
We have years of experience in building software prototypes and MVPs before we roll them out to success.