THOUGHTONOMY WEBINAR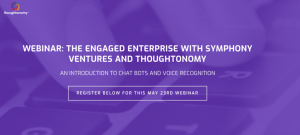 As I'm sure some of you are already aware, Thoughtonomy will be hosting a free webinar on ChatBots and Voice Recognition next Wednesday. For more information, please check out the following link:
https://info.thoughtonomy.com/sv-engaged-enterprise-introduction-chatbotsvoice-230518
If you had any specific questions regarding this webinar, feel free to contact Jen Rolfe at jen.rolfe@thoughtonomy.com. Or if you had any further questions for our speaker, James, you can drop him a line at james.ewing@thoughtonomy.com.
#PRODUCTTALKS WITH INNOVIFY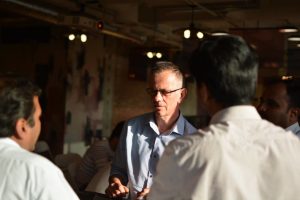 Thanks to everyone who made it down on such a sweltering day. As always, we'll be doing another event next month on the 15th of June, with the topic to be confirmed shortly. So, please do keep your eyes peeled for our upcoming events which you can find on our EventBrite page. If you would like to speak at this event or another one of ours at a later date, please contact our marketing manager, Heshaam Hague, at heshaam@innovify.com.
Lastly, we help start-ups, scale-ups and heads of NPD & innovation with developing their products and services. This includes tech support, innovation ideation, agile development and much more. If this sounds like something you're interested in, please get in contact with Sam Harris at sam@innovify.com.
https://innovify.com/tag/producttalks
https://innovify.com/tag/ai
https://innovify.com/tag/artificial-intelligence
https://innovify.com/tag/automation
https://innovify.com/tag/deep-learning
https://innovify.com/tag/dl
https://innovify.com/tag/innovify
https://innovify.com/tag/london
https://innovify.com/tag/machine-learning
https://innovify.com/tag/ml
https://innovify.com/tag/product-talks
https://innovify.com/tag/thoughtonomy