THE DEVIL IS IN THE DETAILS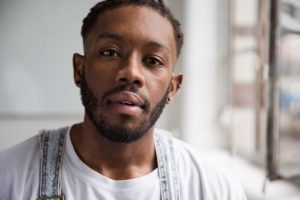 Akil Benjamin then offered insights on a recent chatbot project. It was rooted in Akil's interest in AI (and other emerging technology) and how people interact with it. The end result was a mental health chatbot, dubbed MoodJar, that was targeted towards young people.
When speaking about AI, Akil emphasised that it went beyond UX. Designers must think about the 'human experience' (HX) because AI has lifelong impacts. From determining a mortgage application to a judicial sentence.
After consulting with teenagers to understand what they wanted from a chatbot, Akil discovered:
They desired tools, not friends: So the chatbot was designed to be upfront about being artificial and didn't take on an overly friendly tone.
Objectivity: The chatbot was relied on for its non-biased opinion [SLIDE – Quote that starts with "I know it's a bot…with a non-biased opinion"]
Security and privacy: Therefore, the bot was designed to be private and hidden on their phone.
By taking the time to fully understand the users of AI, Akil's team was able to design a chatbot that addressed their needs and expectations. He ended with this quote, "You build better products when you design for agency and show care."
The slides from Akil's talk can be downloaded here.
#PRODUCTTALKS FROM INNOVIFY
Thank you to everyone who attended May's session and for future events, please check out our Eventbrite page.
If you would like to speak at our #ProductTalk or another one of our events at a later date, please contact our Events Manager, Elena Oprea, at elena@innovify.com
At Innovify we help start-ups, scale-ups and corporates with developing their products and services. This includes tech support, innovation ideation, agile development and much more. If this sounds like something you're interested in, please get in contact with Maulik Sailor at maulik@innovify.com.