ActiveCollab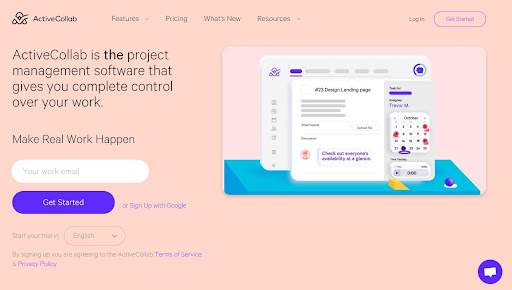 Image via ActiveCollab
ActiveCollab is an online project management application for Agile team designers. It offers subscription-based cloud hosting or self-hosting licensing options. With ActiveCollab, tasks and subtasks are included in a project.
Users can sort tasks based on their due date, assignees, or custom labels, in addition to filtering by the due date. Dependencies between tasks can be set so that tasks follow a precise order. Automatic rescheduling ensures that child tasks follow the parent task automatically when it has been changed.
With ActiveCollab, a project can be viewed as a list, a kanban board, a calendar, or a timeline with displayed dependencies. Users can track time and money spent on each job, generate invoices directly from a project, and export reports.
Moreover, ActiveCollab provides a platform where all communication (comments, discussions, reactions, in-app chat), projects, tasks, and documents are centralized. Support is available online and by email. Monthly, yearly, and one-time pricing plans are available.
Price
Plus: $9.50 / 3 users / month
Pro: $8 / member / month
Pivotal Tracker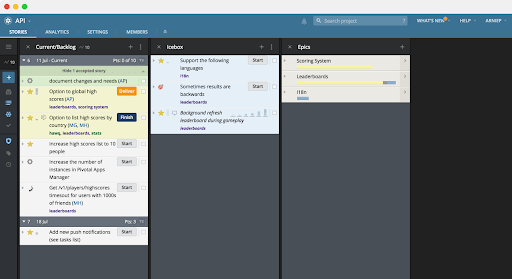 Image via Pivotal Tracker
Pivotal Tracker is a project management tool for Agile team software developers. Pivotal Tracker organizes tasks into "stories" in an Agile development style, in an effort to keep projects moving within and between "sprints."
Using the Pivotal Tracker as a planning tool will help your team deliver more frequently and consistently by fostering collaboration and providing dynamic tools for analyzing progress. The tool basically helps your team better develop and maintain records.
The software is built to support the Agile development cycle from the beginning, enabling mid-project feedback and analysis based on current development rates.
It also provides a shared priority system, allowing project members to see and react to project development and progress. File sharing, obstacle visibility, and a REST API are all included in addition to project sharing and categorization.
Free: Supports up to 5 projects
Startup: $10 / month
Standard: $6.50 / collaborator / month
Enterprise: Custom
Kantree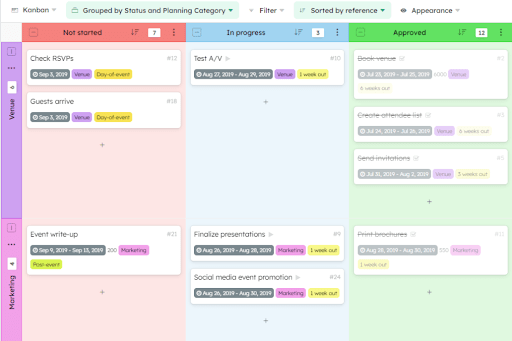 Image via Kantree
Agile teams are given full control over how they manage their work and processes with the Kantree work management platform.
You can use your team members' knowledge and expertise to increase efficiency and engagement. With a simple visual interface, your team can organize, plan, and manage their work every day.
With Kantree, users can structure their projects based on their needs by using professional tools like reporting, roles, rich search queries, logs, and more. Also, via the simple drag-and-drop interface, business users can locate their targets quickly, and as a result, collaboration is accelerated.
Price:
Team: €7 / user / month
Business: €10 / user / month
Enterprise: Available on demand
ClickUp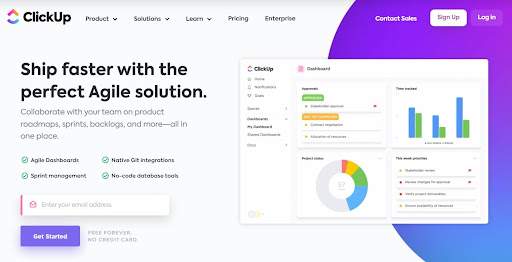 Image via ClickUp
ClickUp is Agile team-oriented project management, productivity, and collaboration tool. It is cloud-based and available for a variety of team sizes and functions.
ClickUp strikes a fine balance between supplying the proper number of features and ensuring affordability and accessibility in order to better synchronize workflows around targets.
Agile teams can use collaboration and shared task-setting features, complete with status alerts and project updates, to enhance workflows. Because it's also highly customizable and provides exceptional visibility into every project and job, it's one of the greatest project management software tools available.
All subscription plans for ClickUp provide some level of project data views, customized and collaborative workspaces, and critical tracking for project visibility and stakeholder information.
Price:
Free Forever
Unlimited: $5 / member / month
Business Plus: $19 / member / month
Enterprise: Available on demand
Monday Projects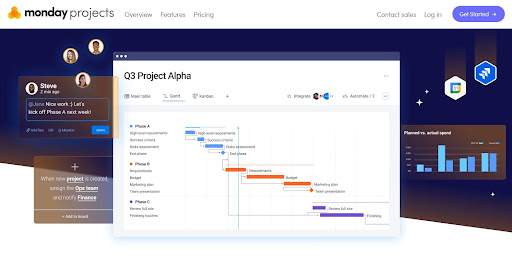 Image via Monday.com
Formerly known as Dapulse, Monday.com is a collaboration app that allows teams to organize and track their work. Monday Projects is a part of Monday.com offerings.
Every team member can see all active tasks and their progress, making it easy to hand off work to the next person or jump in if someone suddenly has to drop out. It is rather easy to use, especially with a modern and attractive interface.
With one click, Monday Projects provides you with a Kanban, Gantt, timeline, and calendar view of your projects based on your preferences.
It does, however, have a few drawbacks. For example, the free tier of service and more straightforward subscription plans are available from similar apps.
Price:
Individual: Forever Free for up to 2 seats
Basic: $9 / seat / month
Standard: $12 / seat / month
Pro: $20 / seat / month
Enterprise: Available on demand
Axosoft

Image via Axosoft
Businesses of all sizes and types can use Axosoft Agile project management software to track projects from start to finish. Axosoft provides standalone project management, project scheduling, document management, issue management, project collaboration, reporting, resource management, task management, and time tracking as part of an integrated suite.
Project managers can distribute tasks and plan releases with the release planner module. A workflow dashboard allows users to share notes and comments on tasks. Users can also track their projects' every step and the hours spent on them via a daily agenda. A customer service portal and analytical reports are included in the package.
Axosoft is accessible via mobile devices and desktops, and it may be installed on an in-house server.
Price
Zoho Sprints
Image via Zoho
Managing tasks of various kinds are tough, particularly when they are accomplished with an Agile approach. Zoho Sprints is a tool for Agile software developers that enable project management.
Zoho Sprints, among other Agile tools listed in this article, is simple to operate, has lots of features, and is inexpensive. Although it doesn't have resource management functionality or an invoice system, it supports almost everything else.
Agile teams can stay on track with personalized scrum boards and swimlanes, prioritize and estimate work items, and get actionable insights from velocity, burn up, and burn down charts by adding user stories to your backlog.
Project managers can collaborate with their team on a social feed and schedule reviews and retrospectives from one location.
Price
Starts at $5 / user / month
Bring your Agile Team's Efficiency with These Project Management Tools
As you've seen, there are numerous Agile project management tools available nowadays. The list above has helped you know your options.
You can download a free trial version of almost all the tools listed above before deciding whether to purchase them. If you have any comments or experiences about tools that help with Agile project management, please feel free to leave them!