6 Strategies for Successful MVP Testing
Picture this scenario: You have just launched your Minimum Viable Product (MVP) and are eager to see the results. However, instead of being met with applause and success, you are met with a barrage of bugs, user complaints, and negative feedback.
Your MVP has failed!
This is a common story for many businesses and MVP development companies. They focus solely on developing their MVP and forget the importance of testing and are unaware of the mistakes they make when building MVP for startups. Even the best MVP ideas can fall flat without proper testing.
That's why, as MVP development experts, we want to share the right way to test your MVP.
In this article, we'll discuss the essential testing strategies that'll help ensure the success of your MVP.
From interviews to single-feature MVP, we'll explore the MVP testing strategies that you can consider.
Key Consideration Before You Start Your MVP Testing
Before starting MVP testing, some key considerations include:
Define your target audience:
Identify who your MVP is intended for and what their needs and pain points are.
Define your MVP scope:
Determine the minimum essential features to validate your business idea.
Set clear success criteria:
Define what success looks like for your MVP testing and how you will measure it.
Plan for data collection and analysis:
Determine how you will gather and analyze data from your MVP testing to inform future product development.
Allocate resources:
Ensure you have the necessary resources, such as budget, technology, and manpower, to execute your MVP testing plan.
Consider legal and ethical issues:
Ensure that your MVP testing complies with relevant laws and regulations and that you have obtained participants' consent.
Choose the right testing method:
Decide the methods that align with your goals. (we'll discuss them now)
These considerations will help ensure that your MVP testing is well-planned and executed and that you can gather meaningful insights. By considering these factors, you can minimize potential risks, optimize your testing process, and increase the chances of successfully validating your business idea and launching a successful product.
Maximize Your MVP Testing with These 6 Strategies
1. Customer Interviews
Customer interviews involve direct communication with end users. It helps gather customer feedback and validate the product's MVP (Minimum Viable Product) features and functionality.
The process involves:
Conducting one-on-one or group discussions with potential customers.
Understanding their pain points, needs, and expectations from the product.
Interviews help understand if the MVP aligns with the user's requirements and if any improvements can be made to make the product more user-friendly and valuable.
Customer interviews provide valuable insights into the customer's perspective and can be used to make data-driven decisions to improve the MVP before its launch.
Here are some guidelines for conducting successful customer interviews:
Identify the right participants: Select participants likely to provide valuable insights and feedback.
Prepare questions: Prepare a list of questions to guide the discussion and ensure you cover all important topics.
Be flexible: Be open to deviating from the set questions if the conversation takes an unexpected turn, but stay focused on the goals of the interview.
Listen actively: Listen to the participants to encourage open communication and allow them to express their opinions and thoughts.
Take notes: Make detailed notes of the conversation, including specific quotes and insights, to refer back to later.
Analyze the results: Analyze the results of the customer interviews and use the insights to inform product development and decision-making.
Paper Prototyping
Paper prototyping is a testing strategy that involves creating a low-fidelity representation of a product's MVP (Minimum Viable Product) using paper and pens. The goal is to quickly test and validate product concepts, and user flows with minimal resources.
A rough sketch of the product's user interface, navigation, and interactions is created on paper. This prototype is tested with users by physically manipulating the paper to simulate different user flows and interactions.
Paper prototyping allows for quick iteration and testing of multiple design concepts and provides an opportunity to gather feedback and make changes early in the development process.
It also helps to uncover any usability issues, validate assumptions about user behavior, and identify areas for improvement before investing in development resources.

Tinder is a well-known example of an app that utilizes paper prototyping. Its creators utilized this technique to test the app's key feature, the swipe mechanic, which became extremely popular.
3. Digital Prototyping
Digital prototyping is creating a working digital representation of a product or service before you go all-in. Digital prototyping can be used to test new products, improve existing ones and reduce costs throughout the design and development process.
The benefit of digital prototyping is that you can easily change it if needed and quickly get feedback on your ideas. With this method, you can also iterate faster than when building physical prototypes.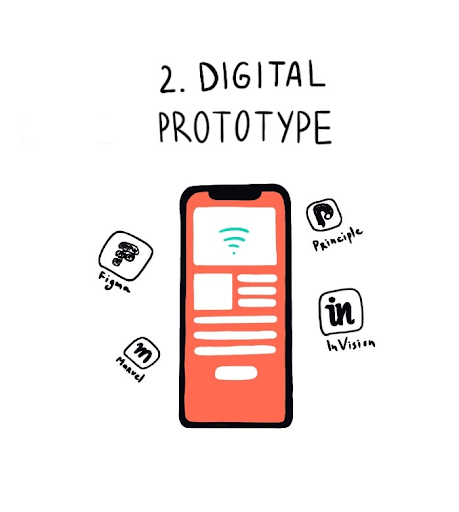 Digital prototyping tools like InVision, Figma, MarvelApp, etc., allow you to create interactive prototypes that users can click through as if using the product. They are great for sharing with stakeholders or clients because they let stakeholders see what your app looks like without building anything.