If you believe the guys from Tech Crunch and agree with them that the app boom is not over, then read on.
Depending on your location, the Agile Development may still be on hype or already faded but it definitely deserves its place on the top of tech projects processes. It's not a new disrupting and revolutionary concept, actually agile approach was born in 2001 as an response to methods as RUP – Rational Unified Process – complex management methods and philosophies used to develop software projects.
So, according to The Manifesto for Agile Software Development , agile represents a set of values and principles to achieve organisations that are able to quickly respond and adapt to change, leapfrogging or beating their competitors.
What is Agile Methodology?
An agile methodology is an approach to App development that emphasizes flexibility, adaptability, collaboration, and continuous improvement. The Agile methodology is based on core values and principles prioritising customer satisfaction, responding to change, and delivering a working App quickly.
At its core, the Agile methodology is designed to improve the speed and quality of App development projects while minimizing risk and reducing waste. The Agile approach is characterized by short, iterative cycles of planning, development, testing, and delivery, which allow for continuous feedback and adaptation.
One of the key features of the Agile methodology is its focus on people and teamwork. Agile projects are typically organized into small, cross-functional teams that work closely together to complete tasks and deliver working apps promptly. This collaborative approach helps to improve communication, increase transparency, and foster a culture of continuous learning and improvement.
Another important aspect of the Agile methodology is its emphasis on customer involvement and feedback. Agile teams work closely with customers to identify their needs, priorities, and feedback throughout the development process. This helps to ensure that the App being developed meets the customer's needs and is aligned with their business goals.
Overall, the Agile methodology is a powerful approach to App development that can help teams deliver high-quality App quickly and efficiently. Its flexibility, focus on people, and emphasis on customer feedback make it a popular choice for modern App development projects, particularly in fast-paced, rapidly changing environments.
How Agile Methods Help Companies In Developing High-Quality Mobile Apps
Considering an agile software company can help in developing high-quality mobile apps by providing a flexible and collaborative approach to development, enabling rapid adaptation to changing requirements and customer feedback. This helps ensure that the final product meets the needs of stakeholders and delivers a superior user experience. Additionally, Agile methods often incorporate automated testing and continuous integration to catch and address defects early in the development process, resulting in a more stable and reliable app.
Benefits of Using Agile In Mobile App Development Process?
Agile App Development is without a doubt one of the mobile app development methodologies that are now used by the majority of mobile app developers. The true reason startups, SMEs (Small to Mid-scale Enterprises), and even Fortune 500 corporations prefer this app development strategy is its numerous functions.
Mobile app development businesses that use the agile methodology may now divide their whole product lifetime into tiny chunks, known as sprints. These sprints are excellent for assessing project progress while reducing the possibility of redundancy.
1. Improved Quality
One of the primary benefits of using Agile in mobile app development is the improved quality of the final product. Agile development involves continuous testing and evaluation throughout the development process. This ensures that any issues or bugs are identified early on in the process, and they can be fixed before the final product is released. As a result, the final product is of higher quality, which leads to a better user experience and higher user satisfaction.
2. Faster Time-to-Market
Another benefit of using Agile in mobile app development is the faster time-to-market. Agile development involves breaking the development process into smaller, more manageable chunks called sprints. Each sprint is focused on delivering a working piece of the application. This means that the app can be released in stages, with each release containing new features or improvements. This allows the app to be released to the market faster, which is crucial in today's fast-paced business environment.
3. Flexibility and Adaptability
Agile development is highly flexible and adaptable. This means that changes can be made to the app at any point in the development process. For example, if new requirements or features are identified during the development process, they can be added to the product backlog, and the development team can work on them in the next sprint. This flexibility and adaptability ensure that the app meets the evolving needs of users and the market.
4. Improved Communication and Collaboration
Agile development emphasizes communication and collaboration between team members. This means that everyone involved in the development process knows what is happening at every stage. This helps to avoid misunderstandings and ensures that everyone is working towards a common goal. Improved communication and collaboration also lead to faster problem resolution, as team members can work together to identify and solve issues. It is important to keep your agile teams inspired to achieve more and speed up the go-to-market for your product.
5. Increased Transparency
Agile development emphasizes transparency. This means that all team members are aware of what is happening at every stage of the development process. This includes the status of the project, any issues or bugs that have been identified, and the progress of each sprint. Increased transparency helps ensure everyone is on the same page and that there are no surprises at the end of the development process.
Understanding the Core Values of Agile Methodology
Individuals and interactions over processes and tools;
Working software over comprehensive documentation;
Customer collaboration over contract negotiation;
Responding to change over following a plan;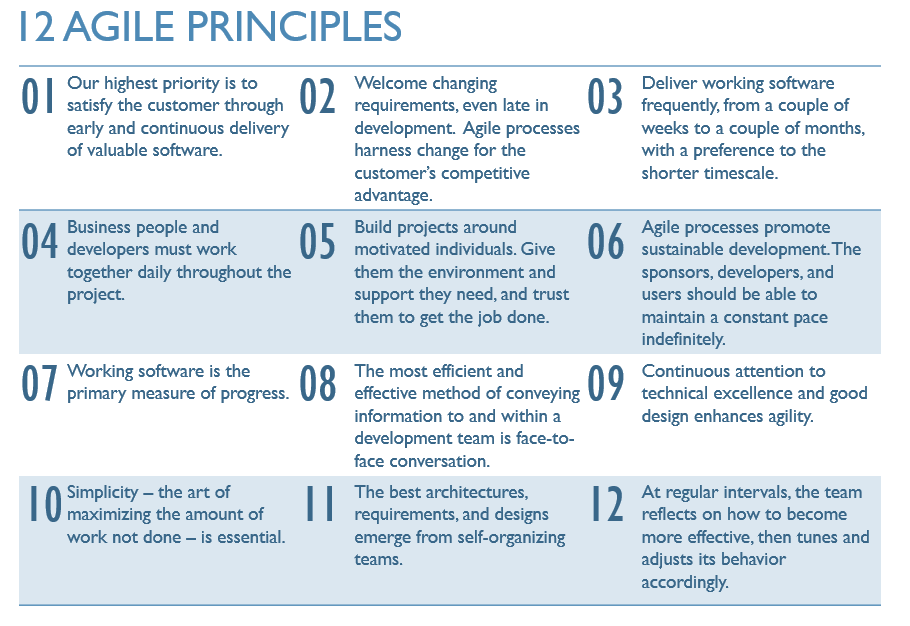 Agile 'umbrella' covers several iterative and incremental software development methodologies: