Top Agile Team Characteristics Essential For Your Team
Unrooting the traditional "waterfall" practices in the business, the agile software development process is the new norm per HP online survey. But why follow agile?
Enhances collaboration
Impacts quality of software
Reduces time of development
Reduces the overall cost of software development
With so many benefits, having an agile team gives you an upper hand in development. But as an IT manager, what to check when onboarding an agile team? Don't worry; through this blog, we bring you top agile team characteristics through this blog.
Let's get started:
What Does An Agile Team Mean?
An agile team is a group of highly skilled individuals working towards a common goal, i.e., define, build, test, and deliver – software right in time.
Unlike the traditional approach, what's different about an agile team? Let's understand more about the agile lifecycle:
1. Concept
The first step is to list the priority of the projects, identify business opportunities, and define the project completion cost and timelines. This benefits the team to deliver tasks before the scheduled deadline.
2. Inception
Once the project priority is defined, it's time to onboard the team and defines its KPIs.
3. Iteration
Here the agile team starts working on the actual design, development, and testing, divided into several sprints.
4. Release
After multiple iterations, the end product is ready to get into the release stage. The testing team plays a crucial role in identifying bugs, defects, and other tests to release the product.
5. Production
Finally, the team starts making the software live when everything is approved, and QA tests are passed.
6. Retirement
Once the product is live and handed over to the customer, it's time to end the activities.
How Is An Agile Team Formed?
Assembling an agile team that works closely together without sacrificing quality can be challenging. As an IT or product manager, your role is first to decide what you want to implement, i.e., Scrum or Kanban. But in the end, your agile team should possess all the required skills and sound engineering practices but should not miss many parts of the business, including marketing, HR, and finance.
To form an agile team, we recommend using Tuckman's Model of Agile Team Dynamics: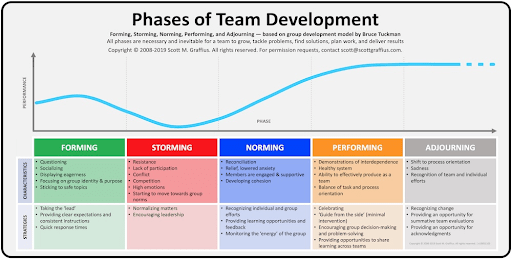 Forming
Storming
Norming
Performing
Adjourning
What Are The Roles And Responsibilities Of An Agile Team?
An agile team only works with one aim: to make software development concepts and processes simple to understand and define clear guidelines for all the developing models.
However, it becomes essential to clearly define the roles and responsibilities of everyone in the agile team, and they have to do it right in a specified time. Usually, there are 3–9 team members in an agile team, and we have mentioned a few roles they may perform in the list below: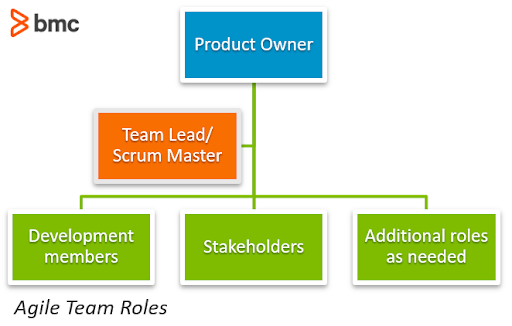 1. Product Owner
A product owner is a primary individual responsible for setting the course of product or software development. The product owner has to do everything from the client and team communication to keeping stakeholders in the loop. The primary roles of an agile team product owner are:
Scrum backlog management
Release management
Stakeholder management
2. Scrum Master
Scrum masters are guides and facilitators for the team members and help product managers to ensure that the task is going fine. They are responsible for:
Conducting Scrum and Sprint initiatives
Planning of the product development journey
Managing administrative tasks
Execute changes
Optimize the backlog
3. Development team
An agile development team is a part of both functional and cross-functional team members with specific responsibilities. The team comprises:
Product designer
Writer
Programmer
Tester
UX Specialist
4. Stakeholder(s)
Stakeholders are investors, managers, executives, and more. They can be more or less, depending on the company's size. They look over the tasks of all the people in the company.
The Top 10 Characteristics Of A High-Performing Agile Team:
1. Proficiency in self-organization
A good agile team has to have the virtue of self-organization, and it is rightly said that:
"The best architectures, requirements, and designs emerge from self-organizing teams."
The Agile team knows very well how to self-organize themselves. Now, this doesn't mean that an agile team doesn't need guidance from their managers, they do, but they don't need it very often.
The project manager of an agile team, while supervising the sprint planning and scrum meeting, doesn't distribute the tasks among all the team members. Instead, they just analyze the task and find the required hours, and then each team member picks up tasks themselves from the sprint backlog.
Self-organizing traits to check in an agile team are:
Autonomous
Adaptive
Accountable
2. Result-Driven Approach
An agile team's primary goal is to achieve results in time, which they fulfill through having a goal-oriented approach.
This approach helps give direction to the team and a data-driven pathway to stakeholders. Also, a result-driven approach leads to proper research and offers directional guidance early and often.
Things a value-driven agile team keeps in mind are enlisted below:
They measure their goals and results and support the team updated in scrum calls.
They are metrics-driven as they measure delivery frequency, the rapidity of the team, deadlines, and other significant numbers. Some metrics team work upon are:

Sprint burndown
Epic and release burndown
Team velocity
Control chart
Number of total defects found (pre and post-release)
Automated test coverage percentage

They have well-defined objectives from the start so that all the departments work in alignment with those objectives without any conflict of interest.
3. Clear communication within the team
An agile team that communicates flawlessly is key to the project's success. Thus, every team should have a full-fledged communication plan to cut unnecessary communication (so that everyone saves time) and ensure complete effectiveness.
It's essential to consider different cultures while communicating effectively in agile teams. Time zones of different geographical locations while working in agile teams is another thing that should be kept in mind for effective communication.
Reasons why communication is vital are mentioned below :
To keep the team members' intentions, expectations, and outcomes clear
To solve the arising problems within the organization easily
To keep the feedback loop and entire work status in one place
To hold the team accountable