"WHAT I LEARNT FROM COACHING 120 TEAMS"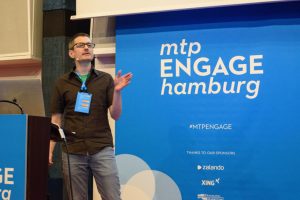 John Cutler, Product Evangelist at Amplitude will follow, discussing his personal experiences in coaching 120 teams – with key takeaways for product leaders wishing to enhance their team's performance.
HOW TO BUILD FOR GROWTH
Finally, a panel will explain how attendees can build for growth. Panellists include Barron Ernst as well as Ben Chisell, the Product Director at Starling Bank and Susana Duran, the Director of Mobile and Bots CoE, at Sage.
As Product Director, Ben Chisell jointly manages Starling's product and design team. Helping the fintech firm use data to improve the relationship between customers and their money and to inform the business' decision-making and strategy. Before working at Starling, Ben was Product Lead for Amazon Video.
Susana Duran leads the international mobile and chatbots Centre of Excellence at Sage. She manages teams across different regions, with a singular focus on customers and finding innovative solutions to meet their needs. She is passionate about mobile technology, chatbots and artificial intelligence. Before working for Sage, Susana worked as COO of Opscaling and Gnuine and as CTO of Zyncro Tech.
The panel discussion will be followed by a cocktail networking reception at 5pm, where you can meet with industry peers and discuss the learnings from the day.
To attend, book your free place here.