Since I let you all know what I'm doing now at Innovify, and what Innovify does, in general, I've had people asking me specifically what a product foundry is.
So here goes…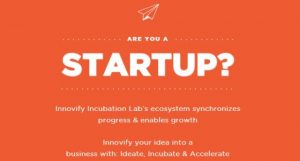 You have an awesome product in mind.
You've done your research on your competitors, your market and how much money you could make.
You have either the right team in place, or you have an idea of the kind of people who can help flesh out the skills you need to succeed.
What happens then?
Well, this is where the product foundry comes in.
Innovify has the ability to turn your digital/tech product into reality, whether it be an app, site or piece of software. We have developers and product managers who have had a hand in some of the best-known apps around, and we have a raft of customers who have used us to build their Minimum Viable Product and every iteration thereafter.
We become invested in your success because it creates an eco-system whereby you get access to all of the mentoring, funding, marketing, and technological input you need, and we get to build more awesome products.
You simply apply through the site at innovify.ventures, giving us your story, attaching your pitch deck, executive summary, and any other relevant pieces of information, and we'll assess it.
If you're accepted, you get access to best-in-class advice, software development from our fully qualified Agile teams, guidance on getting as many eyeballs on your product as possible, and realising your dream of getting your product to the stage where it's disrupting the market.