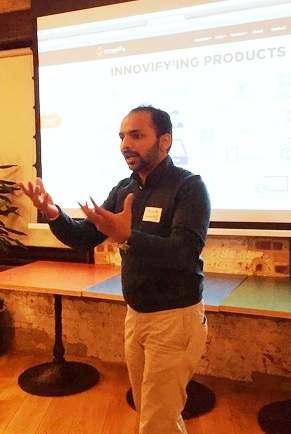 Maulik Sailor addressing the attendees
WE MET SOME REALLY BRIGHT & INTERESTING ENTREPRENEURS & PRODUCT EVANGELISTS DURING THE PRODUCT TALK WE ORGANISED ON OCTOBER 12TH, 2015 AT 9 DEVONSHIRE SQUARE, LONDON. WITH AN OBJECTIVE TO BRAINSTORM ABOUT WHAT HAPPENS WHEN YOU HAVE AN IDEA FOR A STARTUP, WE ORGANISED THE MEET TO DISCUSS ON THE TOPIC  

'

EVERYONE HAS AN IDEA: WHAT'S THE BIGGEST PROBLEM WE FACE?'
Innovify highlighted the importance of Ideation, the Eureka moment when you realize that your idea has the power to change the world and much more; which triggered interesting discussion points.
The key takeaway from the talk was for you to understand which idea to go for, you need to take care of the following things:
1. Articulation – to be able to describe the idea from different perspectives – users, employees, partners, etc
2. Buy-in – to be able to have buy-in from your co-founders, management, etc. If you don't get them onboard, even a good idea will be ruined.
3. Structure – having a raw idea is good, but putting a structure to it is a must before you start executing it. Business model canvas, value proposition, value model and similar other tools can help you to put structure to it.
While everyone has an idea, only a few entrepreneurs are able to successfully execute their ideas, and that's what makes all the difference.
With insights from three prime perspectives, The Startup Approach as conveyed by Vikas Sharma, Founder & CEO- Instantt.co, The Corporate Approach by Davide Turi, New Product Development, Sky & The Specialist Approach by Stephen Cockett, CPO, Golden Egg, the talk was alive with knowledge sharing & product discussions.