Morning innovators!
I thought I'd start the day with a positive suggestion (admittedly against the background of a burning building haha…).
Do something that your competitors can't do, won't do, or won't understand.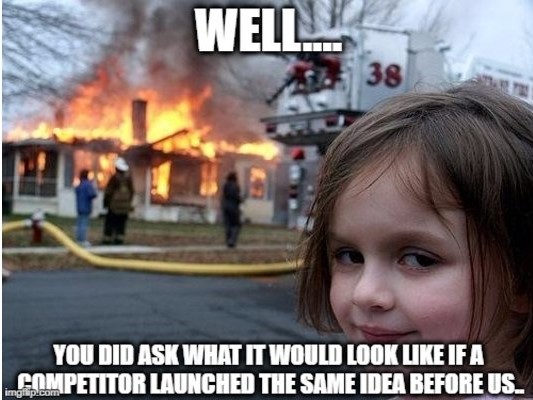 Can't do: if they've already determined a direction, it may be difficult or impossible for them to change….as an example, Facebook can't imitate Twitter because they established themselves as a "friends-only" sharing tool, and every time they try to make your feed more public they encounter massive user protests.
Won't do: do something that will seem to them to be insane or unprofitable. Disruptive technology is all about doing something that seems illogical or bad business to an established player because their economies or business model make it bad for them. But since you're feeling brave, or just starting out, you can do it.
Won't understand: every company builds up its own model of the world. All your competitors will have one. Their model might make it impossible to understand why your model will succeed until you have already gained so much traction that it's too late. For example, perhaps you have figured out a way to provide a service for free that your competitors are charging for. Or maybe you've discovered some user behavior that seems illogical, like the idea that if anyone can edit an encyclopedia, you'll get useful articles. Britannica didn't see that one coming.