"The focus of innovation has shifted from being engineering-driven to design-driven, from product-centric to customer-centric, and marketing-focused to user-experience-focused" Linda Naiman
Design Thinking is popular in business and there are many correlations to product management, innovation, and strategic design. This is not surprising given that there is a field of research and business consulting based on arts, artistic approaches, and tools. Artistic approaches are particularly appropriate for innovation – as processes are largely based on the exploration of new ideas, iteration, further checking, testing, editing and exploring.
Let's take a look at how design thinking can be used in customer and user-experienced product management: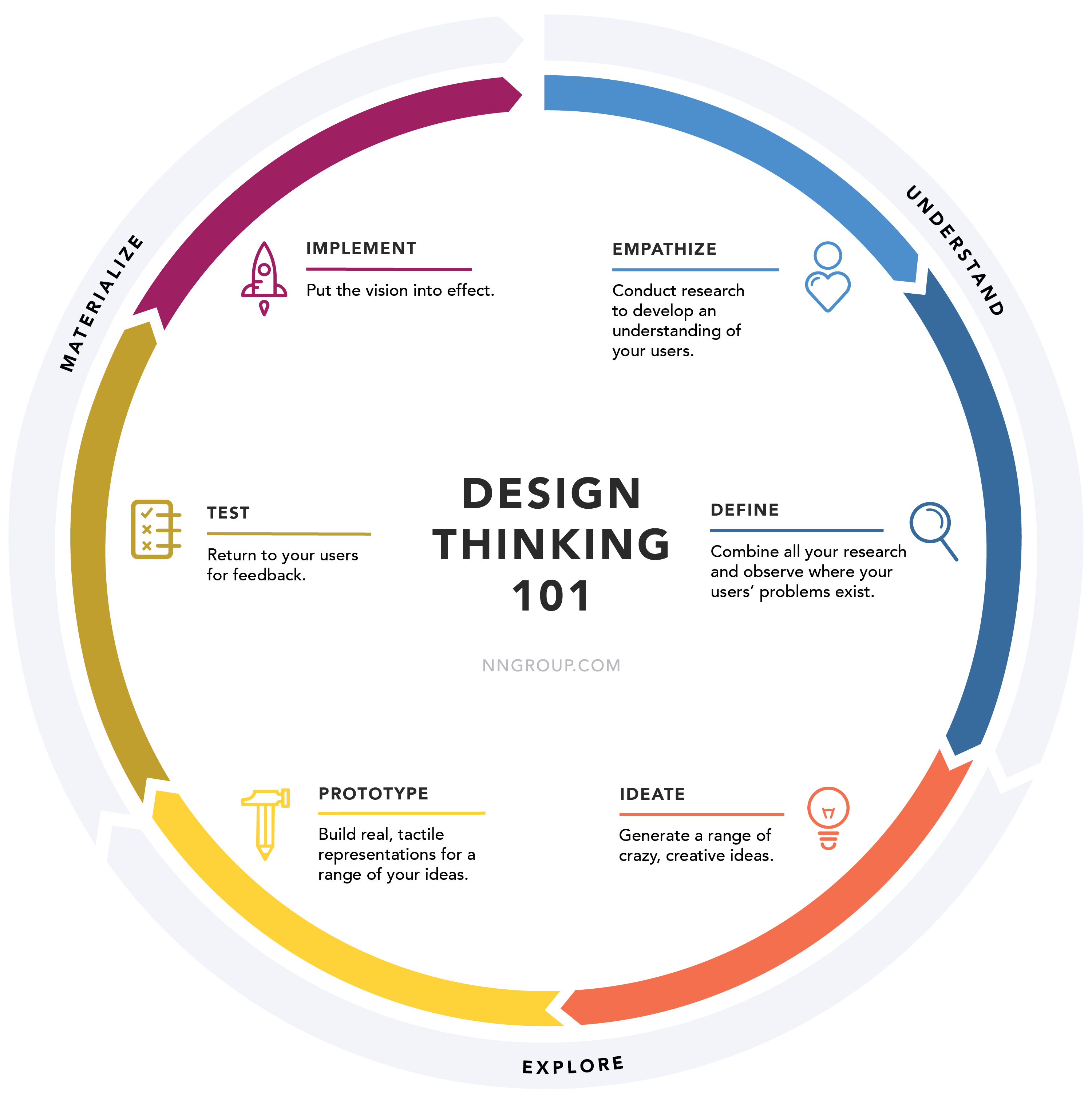 Image source: Nielsen Norman Group
Design thinking starts with understanding customers by empathizing with them. It also defines their problems and what product needs to solve. There is also an exploration phase, which allows ideation, investigation of various ideas and prototyping them. In design, the process of exploration is crucial in creating the ultimate product, ideas come alive, get changed, replaced and expanded or refined.
The crucial point in product design is allowing for the process of exploration, this is where innovation happens. Finally, after the refining of ideas there comes the process of materialization – testing the prototypes and implementing the final product. Testing, testing, testing. Designers can't get enough of testing and editing again, which is critical in creating great designs/products.
This asks important questions though, such as:
Is the time for innovation during your discovery with clients?
Or, once you create and test the product?
In the attempt to develop customer and user-experienced product management, there are three main lessons to take from design thinking:
1)   ALLOW TIME FOR ITERATIONS
– the time required for iterations is crucial. This is when product managers can truly listen to their customers and help them refine their ideas. Innovation is not only an act but also a process, and for it to happen, the right environment needs to be created.
2)   TESTING AND RE-TESTING A PROTOTYPE BEFORE PRODUCTION
– allowing for testing and user feedback before the product goes live is crucial for creating user-based-experienced project management with a successful release and a happy customer. It is better to minimise the risk and uncertainty of the product going into production incomplete.
3)   REFINING OF IDEAS
– this can take shape by testing the product and usability – this will allow a focus on user needs rather than assuming what end-users would like to see.  It is very easy to get carried away by developing new features without testing/checking. A design thinking approach gives innovators a chance to explore, understand and implement.
In short, design thinking is a process that takes you on a journey. For product managers, that means a complete shift in paradigms. A customer centric approach allows for the exploration of ideas by creating different prototypes, looking at various options and asking opinions. The customer is taken through the journey where he is the co-creator of his own ideas. Let's not forget that customers only have a snippet of what the product should look like and of how it needs to work. What would be the recipe for success in product management?
The key is to think like an artist or designer in the ways you think, innovate and lead.