For a startup, getting the right team in place in the early stages is absolutely vital. 90% of newly started businesses close down before reaching their fifth anniversary and the most commonly cited reason is failing to find the right team. Innovify can help you make sure you're in that 10% that succeeds. And the story of how we worked with Instantt and their Founder-CEO, Vikas Sharma, shows you how.
Instantt is a queue-busting app, allowing you to find nearby places to order from, pay with your mobile and get an immediate collection time. It also supports loyalty schemes, helping you save money as well. The benefits of this app were obvious, as was the potential.
The problem was that it was only potential. They didn't have a beta version or even research backing up what it could be. At this point in time, it was only an idea. Vikas needed the right tech talent to turn it into a reality and actually build the platform.
Finding a co-founder CTO would mean giving up a lot of equity with no guarantee of success. And outsourcing would mean a lack of collaboration between the team and Vikas, who felt that interaction was vital.
And that's why he came to Innovify. We were impressed with the idea and literally partnered with him to develop and launch the app, as well as plan the company's finances.
This meant we took the process through three stages: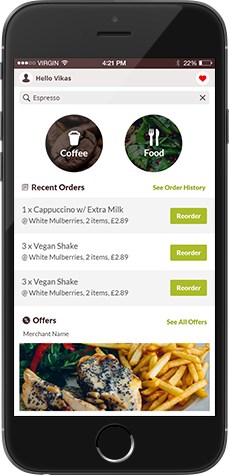 MLP (Minimum Learnable Product)
We started the process by creating an initial stage app. This was designed to test his idea in real waters and was a learning phase. Working on iOS, it would give insights into:
How people use apps like this
How it interacts with the offline workflow
How people respond to the prospective UX/UI
Once deployed, this gave us real market data to analyze and use to derive conclusions. It also helped to guide us to integrate newer features for both registered vendors and users of Instantt.
MVP (Minimum Viable Product)
Using the insights we'd gained, a new version of the app was expanded to Android as well as to iOS. And all the existing users and vendors were smoothly transferred to the new platform.
This meant we could continue to learn about user interaction at the same time that we ran product development processes. So we kept learning and improving as we worked.