Education is embracing digital revolution at a rapid rate. Traditional classrooms are being replaced by modern learning environments that are dynamic and leaning heavily on digital infrastructure and tools.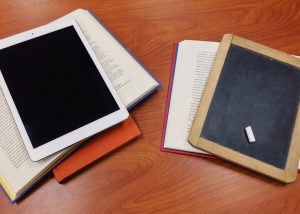 From using web apps to deploying interactive educational technology, a growing number of academic institutions and start-ups are busy upgrading classroom environment and learning systems.
2019 is a year that has many educational technology changes afoot and is set to inspire unprecedented traction and action in educational software development.
The first phase of progress in EdTech is already complete with wi-fi enabled campuses that allow students to learn using their smart-devices, providing them with smart content explained via digital solutions. The next phase of digital transformation is here for education industry and it is going to usher in a new wave of education industry software and digital solutions, benefitting educators, students and parents alike.
Here's a lowdown on key education technology trends that will drive much of e-learning software application development services in 2019 and beyond:
1. AUGMENTED REALITY (AR)
Once hailed as a game-changing enterprise technology, the potential of augmented reality is being realised and explored fast to transform the future of education. According to a recent estimate, the next couple of years will witness the rise of billions of 5G devices and smartphones, which shall drive the adoption of augmented reality (AR) as means to take user-experience to the next level.
This opens up tremendous scope for using AR in education sector via smart devices. Resulting outcomes will significantly enhance learning experiences for students and educators, making consumption of academic content more immersive and enjoyable, which in turn shall deliver impactful understanding like never before.
BENEFITS OF AR:
This technology provides greater ability to render objects that are difficult to imagine, turning them into 3D models, making it incredibly simpler to grasp abstract and complex concepts with ease.
Deploying AR-enabled solutions will make the learning environment more engaging, interactive and immersive. Teachers can create lesson plans backed by developing interactive models on subject-specific topics. This ensures a better understanding of subject matter as the focus shifts from a more theoretical learning experience to a practical learning methodology. AR will help students visualise what they are learning, which will reinforce their conceptual understanding of the subject matter.
2. VIRTUAL REALITY (VR)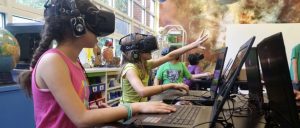 Another immersive technology that makes a tag team with augmented reality (AR) is virtual reality (VR). Gone are the days where students are expected to understand content and concepts through passive learning, as they sit quietly on desks.
With recent advancements, VR technology does not seem gimmicky anymore and is finding greater demand in education software development. Among the most popular existing VR applications available for education is Google expeditions, which has been used by over one million students in the UK as part of their Pioneer Program, and another one million children globally.
THE BENEFITS OF VR:
This technology offers an amazing capability to bring reality into learning environments and classrooms. By allowing the users (read learners and students) to transport into an immersive virtual environment, VR provides true-to-life depth and experience in consuming and exploring content and concepts.
A huge benefit that VR brings to the table is that the traditional one-size-fits-all teaching methodology can be set aside to deploy a variety of teaching and training methods catering to the learning needs of specific students. The use of VR technology can not only drive learning satisfaction but also achieve learning delight. Lesson plans can be devised keeping in mind visual auditory, tactical and kinesthetic learning styles and can be deployed keeping a student's preference and comfort factor mind. This can result in better learning outcomes.
3. ARTIFICIAL INTELLIGENCE (AI)
From helping improve the user experience to enabling smarter content & learning methods, AI is set to offer unprecedented capabilities especially in e-learning software application development services and digital solutions for education industry.
The most critical area where artificial intelligence is being used and shall see greater application in education is finding and filling gaps between teaching and learning. Leveraging artificial intelligence as technology-aided academic intervention, schools and educational authorities are able to bridge worrisome gaps in learning disparities, especially for subjects such as mathematics and science.
THE BENEFITS OF AI:
The application of artificial intelligence has borne fruits for several institutes and educational initiatives. A number of higher education institutions and universities have had successful experiments with IBM Watson and other AI-powered cognitive e-learning and IT tools.
Among the widely deployed AI use case at educational institutions including schools, colleges, universities and e-learning platforms is the use of AI chatbots. Not only do these AI driven apps and software solutions help free up teaching staff & academic resources for tasks that warrant greater priority, but also make it possible to seamlessly automate administrative services, student enrollment, course guidance and other similar activities and tasks.
AI makes it possible to develop highly personalised learning paths and targeted content based on individual grasp. Using this capability many education software development companies have found success in developing intelligent tutoring systems.
4. DATA SCIENCE AND DATA ANALYTICS
Technology-driven enterprises across verticals yearn to leverage analytics and advances in data science to find a needle from a haystack. The advent of Big Data is helping businesses make sense of the massive volumes of data they have in order to make informed decisions.
THE BENEFITS OF BIG DATA:
Modern education is all about providing more targeted learning, personalised education and tailored support. Use of analytics is being embraced by all kinds of educational bodies including b-schools, universities and online learning platforms to deliver an adaptive learning experience. Big data driven tools give teachers actionable insights into their learning efforts. It gives them more clarity on which students have understood the subject matter and which students are lagging. This helps them pace their instructions based on the learning ability of each student, thus enabling them to achieve learning objectives in a more meaningful manner.
The use of Big Data can also result in more value-added information sharing between parents and teachers as the latter can specifically identify areas where the child is doing well, and where the child needs support. This can then be conveyed to the parents with the available data points. The result is better clarity into the child's progress and how parents can help their children achieve their learning goals.