While there are lots of teams who adopt Agile, not everyone gets the full benefit with most calling it off or ending up in Waterfall instead.
Why might this be the case?
The Agile Scrum has lots of moving parts, different roles and even 'ninjas'. At the core, there are a few basic principles that if you don't follow, may result in you leaving out a large proportion of the methodology and becoming open to anti-patterns.
Here are 3 Scrum features that I've found important while implementing Agile:
Scrum ceremonies: Rules and meetings are aggressively simplified to optimise work flows and minimise waste. This culminates in 4 structured meeting types: Sprint Planning, Sprint Review, Retrospective, and Daily Standups – each with their own timebox and deliverables. These meetings are a core part to realising the potential of Scrum as an empowered team, producing predictable and shippable increments.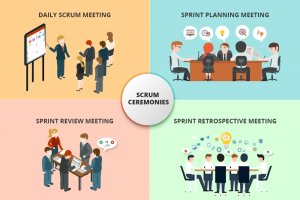 Image source: www.quickscrum.com
Respect the time boxes: Time boxing helps focus team members, which promotes efficiency and helps them stay cohesive. It assists by keeping meetings effective, engaging and efficient.
Retrospectives actions: This session aims to identify the positive and negative items from the sprint while identifying an action plan as a result. The important part of this is to take part as a team and identify all relevant issues. Finding the problem is the first step but solving it is the objective.
Retrospectives help you realise the benefits of Scrum and Learn with the 'build, measure, learn loop' process, popularised by writer Eric Reis' in the Lean Start Up; a core concept of Agile. In my experience, allowing your team to identify and act on insights, gives them real empowerment and effectiveness.