6)    It is considered that UK is way ahead than India in technology, in such a scenario doesn't it become difficult to reach UK's standards with Indian resources?
Well, I would say no and yes both. Yes to "UK is ahead of India in technology" and No to "reaching UK's standard with Indian resources is difficult". All the latest technologies and processes that are practiced in UK can easily be adapted in India, if the core purpose is understood well. Our office in UK with its infrastructure & human resources make knowledge sharing quick and effective. And our scrum teams in India are efficient & adapt quickly. It's a great synergy between the two giving us a cross country advantage.
7)    When an aspiring entrepreneur comes with an idea which is not feasible enough, what is your next step?
95% startups fail sooner or later! If we believe that any idea is not feasible in terms of scalability, business model, revenue, market, we mentor them in the areas they lack. Our incubation process helps an entrepreneur structure his idea in a way that he finds his own potholes and encourages him to find solutions.
At times even re-looking at the existing startups with different perspectives helps in disrupting the product.
Also Read: Insights that will turn your million dollar idea for a tech-startup into a billion dollar idea!
8)    How does Agile make a difference in the operations of a Product Management Company?
It's simple – Agile helps engage stakeholders, predict delivery and cost, be responsive to market needs and stay ready for quick adaptations, which encourages valuing customers and adhere to transparency. This entire process makes product development feasible and achievable. If you are not agile you are bound to fail in the world of product development.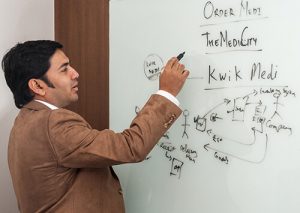 9)    You have worked in industries like education, event management, real estate, plastics and petrochemicals, which are very different from each other. Does this diverse experience help you deliver better business solutions?
Definitely! A diversified experience means having met a lot of dynamic people & tested many different ideas. It has helped me understand different business models of startups and products from different perceptive. This experience helps me give technical guidance & clarity to revamp business model for the startups with.
10)    Where do you see Innovify 5 years down the line?
5 years is a lot of time, I see Innovify having nurtured at least 25 startups, scaling these start-ups to the highest peaks of success and strong experienced alumni of entrepreneurs.
11)    As per you, what could be the leading reasons behind a startup's failure?
Most often startups dig their own grave at the very beginning. One of the common mistakes is not carrying out enough research towards the market needs and problems against what the startup actually understands or feels. Other similar reasons are no tangible revenue model, no scalability in terms of operations, team composition and many more.
Ideas can make you Big – If you implement them right. 🙂